"Focus on Fitness" Video Series
Sue has put together a series of videos called "Focus on Fitness" to better explain and demonstrate some of the good habits to have while working out. Video topics include improving posture and suggestions for better technique you can use in your own workout.
You can see more videos at her YouTube page:
Belleair Fitness YouTube Page
Health and Fitness Seminars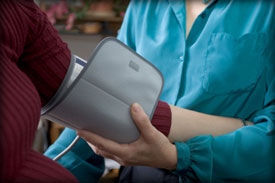 Belleair Fitness' services can help you achieve your goals through Health & Fitness Programs. Services include fun and educational PowerPoint presentations, handouts, and program materials. Let Sue customize a program or choose from one of the following:
Shape Up

A 6 week weight management course for overweight youth and their parents. Over the 6 weeks, participants will learn how to eat better, exercise and have a healthier lifestyle.

Freedom From Smoking™

Sue is a certified American Lung Association Instructor. This 6 week course will give you the tools needed to quit smoking.

Keep Your Energy Up!

Includes information on diet, exercise, stress management and lifestyle changes that you can live with.

Recipe For Better Health

The recipe for better health is as simple as 1-2-3. The key is using fruits, vegetables, and grains to improve your quality of life. This 1 hour seminar focuses on disease prevention and nutrition to improve your health.
Corporate Wellness Programs
Belleair Fitness can help your organization enhance employee's health through our health & fitness seminars.
Healthy for Life

Important facts and tips on getting healthy and staying fit.

Back to Health

Does your office staff sit at their desks all day? Learn simple back and wrist exercises to reduce back pain and Carpal Tunnel Syndrome.

Making Stress Work for You

Learn the difference between optimal stress and bad stress and find out how to use stress to your advantage.

Protect Yourself from Chronic Diseases

Learn ways to decrease heart disease, hypertension, diabetes and some cancers.

The Fitness Triangle

Teaches the importance of the 3 main exercise components: strength, flexibility and endurance.